Adding A Profile
Sometimes you need to have a second account (or profile) set up on your Chrome Browser. This most often is done in the case of the Learning Coach. Many families will set up one profile for the student and a second profile for the Learning Coach.
Open Chrome

In the top right, click on the person icon (shows the current profile)

Choose "Add" at the very bottom of the menu (seen in

figure 1

)

This opens a new window where you will click on the "Sign In" option.

Now sign in using your other Google Account.
Switching Profiles
Once you have added a profile, it will be listed at the bottom of the user menu as seen in figure 1. Just click on the name for the profile you wish to use. This will open a new Chrome window for you to used with the new profile.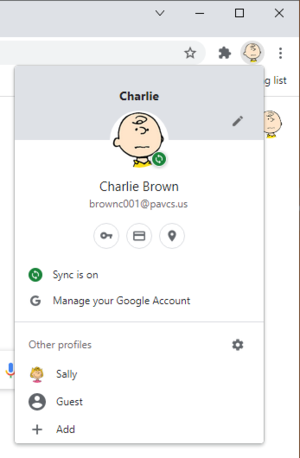 Fig. 1: Multiple Profiles in Chrome