Extensions
You can customize your Chrome features and functionality by adding extensions. There are a number of extensions that PA Virtual 'push down' when you sign into Chrome. (See Sign Into Chrome Browser for details). You can find additional extensions that you can choose to install on the Chrome Web Store.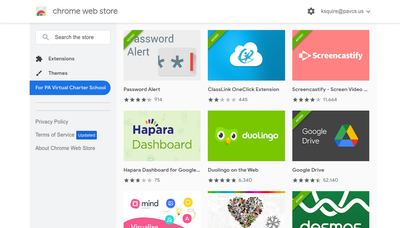 When you first enter the store you will be on the "For pavcs.us" page (see image above). All approved extensions have been added to this "For pavcs.us" section. Students and Learning Coaches can install any of the extensions found here.
Click on any of the 'cards' will provide additional information about the extension.

From the extension page, you can click the "Add To Chrome" button to install the extension.
Students and Learning Coaches can only install extensions in the "For pavcs.us" section. All other extensions are blocked for Students and Learning Coaches. While teachers can explore and use other extensions, they will need to use the standard Software Approval procedures if they wish to allow their students to also use the extension.
Managing Your Extensions
To begin managing extensions, click on the menu button

in the upper right corner, and then "More Tools" → "Extensions". (Optionally, you can type chrome://extensions/ into your address bar.) You will be able to see a list of all extensions added to your Chrome profile. Each extension will have it's own box as seen below, and each box will have up three options.

In the examples above, we have two extensions that have been added to the users Chrome browser. "Adblock Plus" is an extension that the user decided to install. The "ClassLink OneClick Extension" was pushed down when the user signed into Chrome and is managed by PA Virtual. (note the

icon. )
Details Button - Pressing this button will give you access to full details, as well as potentially setting options (if the extension has any settings options)

Remove Button

- If you are allowed to delete the module, you will see a remove button. Modules managed by PA Virtual will have a small building icon.

Enable Slider - Clicking on the slider will turn it on/off (if it is not managed).