Update Chrome
We have enabled Google Chrome's "automatic update" feature. This means, for the majority of the time, you never have to do anything special to receive the most recent and secure version of the Google Chrome Browser. Normally, the updates happen in the background, and you don't need to anything. But if you have not closed your browser in a while, you may notice you have an update pending.
Click on the 3-dots in the upper right corner.

figure 1

Go to Help –> About Google Chrome

figure 2

figure 2

shows this user has an update waiting, and needs to click "Relaunch" to apply those updates.

If you are already up to date, it will read "Google Chrome is up to date".
If it has been more than 2 days since the update was ready, you will notice that the 3-dots has changed to include "update". It will also display as a different color based on the number of days since the update has been ready.
If you have one of this "Update" notice on your menu, when you click on it you will see "Update Google Chrome" in the menu.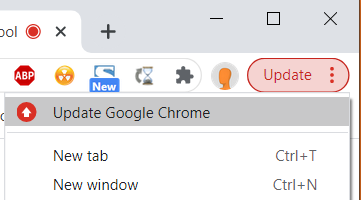 Once you click to update, you will be asked to relaunch. The browser saves your opened tabs and windows and reopens them automatically when it restarts. (Be aware that your Incognito windows won't reopen when Chrome restarts.) If you'd prefer not to restart right away, click "Not now". The next time you restart your browser, the update will be applied.